Liger DMC makes you and your employees discover the charm of Lisbon. At once capital and largest city of Portugal, it is built on seven hills overlooking the estuary of the Tagus, which flows into the Atlantic Ocean. Whether you are in Alfama, Baixa or Bairo Alto, you will feel a village atmosphere, certainly different, but equally captivating, which will only strengthen the cohesion of the group.
Day 1
Reception, by 1 English speaking representative from Liger, transfer to your hotel.
Buffet lunch with drinks.
Provision of a plenary meeting room (Mineral water, notepad and pens, video projector: Set Up to be confirmed).
Coffee break.
Departure for your ride in Speedboat on the Tagus (1 hour). Continuation in scooter (Tuk Tuk) for the discovery of the old districts of Lisbon with tasting of tapas accompanied by green wine or orange juice pressed in a typical tavern of Alfama.
Back to your hotel.
Departure to your dinner with drinks at the restaurant Adega do Kais with the possibility of continuing your evening at Skones, the club dancing restaurant with 2 drinks included / pax.
Return to your hotel with 2 returns included.
Accommodation.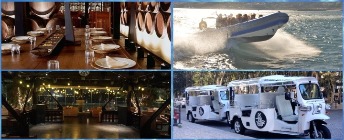 Day 2
Breakfast.
Departure from your hotel to Sintra by coach tour, start of your activity:
Itinerary: Lake Azul, S. Pedro de Sintra, Pena, Mouros Castle, Capuchos Convent, Peninha, Cabo da Roca, Cascais, Guincho Beach
Jeep Rally with questionnaire and driver.
4 activities during the course and stop at the Historical Center of Sintra. This rally was designed to discover the romantic paradise of the Sintra massif. From the construction of the Château dos Mouros in the 8th century to the beginning of the construction of the Royal Palace of Pena in the 19th century, Sintra has acquired a cosmopolitan and royal aura from which it will no longer separate. Sintra has become the place of occupation of the free time of the Portuguese Kings thanks to its fauna (hunting) and its mild temperature and is classified since 1981 as Natural Park and since December 7, 1995 as protected area and World Heritage.
Participants will receive a road book (1 per jeep) to find their way around which will also contain some questions about Sintra.
PROGRAM: SINTRA SAFARI - DISCOVERING THE MOUNTAIN (1/2 day)
After the formation of the teams, departure by Jeep from the Hotel to start a mixed course of asphalt and all terrain. Along the way, participants will have the opportunity to visit the historic center of Sintra and they must surpass three activities to choose between:
Spider Web, Sarbacane Shooting, Rocket Launcher, Archery Shooter, Tri-Ski, Shuffleboard, Ass Game, Mountain Bike Slalom, Wheelbarrow Game and Putting.
Wine tasting at the Adega de Colares: http://www.arcolares.com
Lunch with drinks in Sintra (Skewer of Calamari and shrimp) at the restaurant Curral dos Caprinos: http://www.curraldoscaprinos.pt/en/
Return to Lisbon by coach tour and rest of the afternoon free.
Departure for a 1-hour stroll by privatized trams with aperitif on board (Porto) on the famous line 28.
Continuation with a dinner in the private room in a roof restaurant in the Bairro Alto with DJ animation until 01:00 AM, The Insolito: http://theinsolito.pt (Next authorization, possibility to extend until 02:00 AM).
2 Returns included at your hotel.
Accommodation.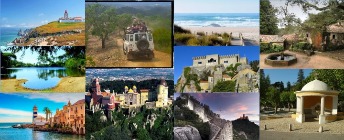 Day 3
Breakfast.
Provision of a plenary meeting room (Mineral water, notepad and pens, video projector: Set Up to be confirmed).
Coffee break.
Lunch with drinks at your hotel.
Transfer with English speaking assistance to Lisbon airport, assistance with boarding formalities.
End of our services.